Don De Gouvea
A breath of fresh air in stage hypnotism!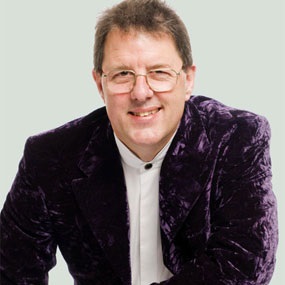 If it is an evening of total escapism that appeals to you, whether as a volunteer or a voyeur, come and see master stage hypnotist, Don De Gouvea, at work.
For the last twenty five years Don De Gouvea has been bringing his unique style of hypnotism in Belfast, to the art of stage hypnosis. Capacity audiences all over NI have witnessed his fast moving, unusual and hilarious shows.
He invokes vistas of operating tables, school rooms, horse races, boxing rings and night clubs, to mention but a few. His volunteers, undoubtedly, are made the stars of the evening. Many are amazed to produce talented performances that have been lying dormant within themselves.
Once the hypnotist show has started, Don is not adverse to making use of members of the audience who are not on stage, with hilarious consequences. It is not unusual for a lady to find herself being beseeched in Chinese by her errant husband and then having to respond!
Don's show does not feature a stage hypnotist trying to be a comedian or a lecturer in the wonderful intricacies of the art. He uses hypnotism to highlight the comedy in situations that he constructs in the minds of his willing volunteers.
What follows speaks for itself in terms of humour and amazing feats. At the end of the show all of the volunteers are returned to normal.
Don refuses to leave any long lasting suggestions with them as he would not be there to over-see their performance and ensure their well being. Thus, there will be nobody visiting the Post Office trying to license their leprechaun next day!
Don has provided his hypnotist show in theatres, clubs and function rooms throughout Ireland and further afield. Clients have booked him as corporate entertainment, wedding entertainment, party entertainment and fund raising entertainment.